2022 Open Minds survey reveals data management and reporting for CalAIM is the key challenge facing California Health and Human Services Providers.
"With the final approval of CalAIM in 2021 by the Centers for Medicare & Medicaid Services (CMS), the first managed care Medi-Cal health plan contracts for provider organizations started in January 2022. Providers need business intelligence systems NOW so they can tell their stories with DATA, not just to survive, but THRIVE in a value-based contracting world." – Richard Louis, VP West Region, Open Minds
On December 17, 2021, DHCS confirmed approval of CalOptima's CalAIM MOC. The Model of Care (MOC) describes CalOptima's plan to implement CalAIM. The full MOC consisted of policies and procedures, contract templates, and provider capacity information.
One of the major difficulties facing health and human services providers is developing the data management and reporting systems needed to measure outcomes rather than services. Fully one-third of providers say this is one of their greatest challenges.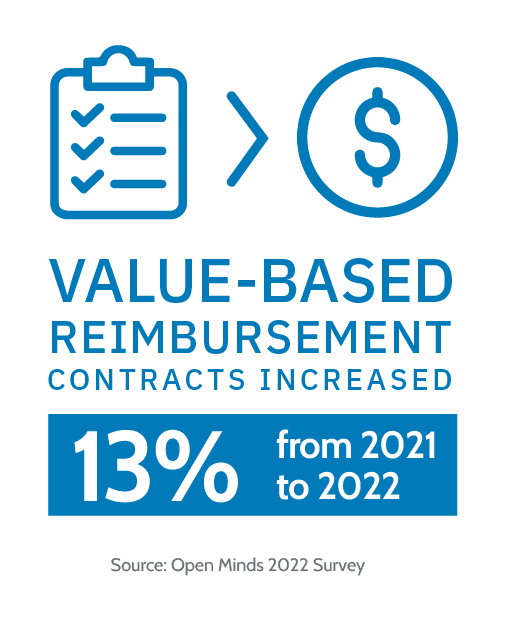 Questions human services providers are asking:
What data do we need to track and report?
How do we collect data for each of the five Performance Measures?
What standardizations are needed to meet CalAIM reporting requirements?
Who can help us navigate through the transition?
How can we use our performance results to grow referrals?
About CalAIM
The initiative leverages Medi-Cal (California's Medicaid healthcare program) as a tool to help address many of the complex challenges facing California's most vulnerable residents, including individuals experiencing homelessness, children with complex medical conditions, justice-involved populations who have significant clinical needs, and the growing aging population.
CalAIM has three primary goals:
Identify and manage member risk and need through whole person care approaches and addressing Social Determinants of Health.
Move Medi-Cal to a more consistent and seamless system by reducing complexity and increasing flexibility.
Improve quality outcomes, reduce health disparities, and drive delivery system transformation and innovation through value-based initiatives, modernization of systems and payment reform.
The Biggest Challenges for California Human Services Providers:
Here are a few important takeaways from the 2022 Open Minds survey of Providers nationwide: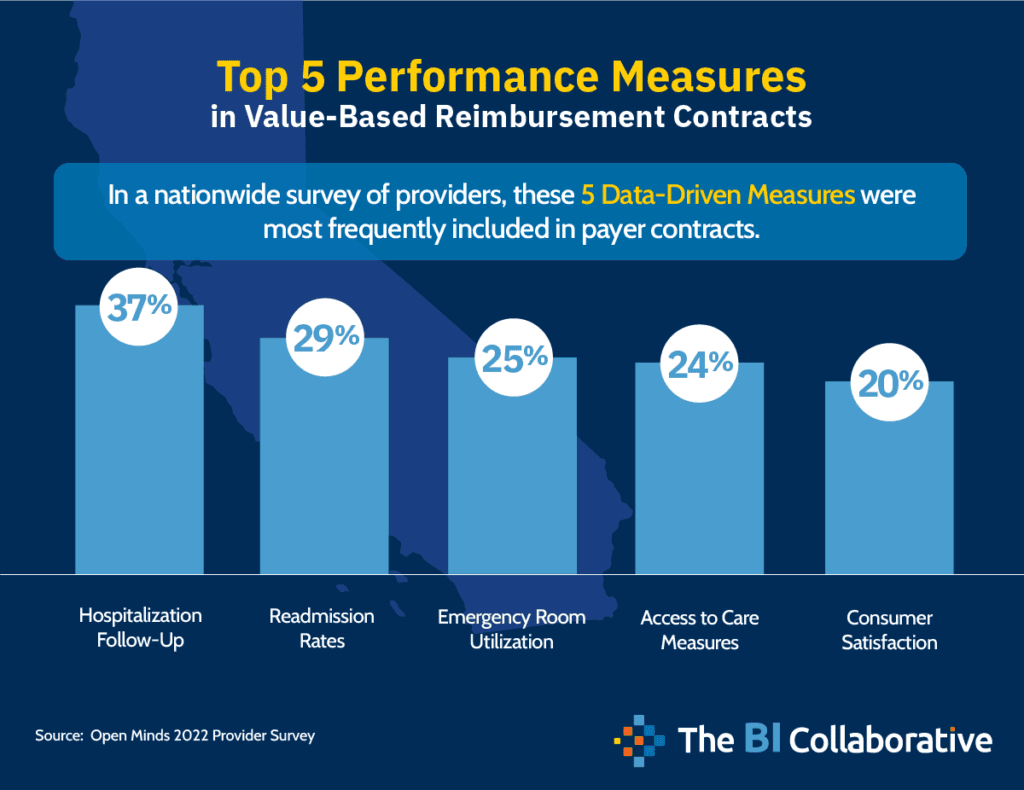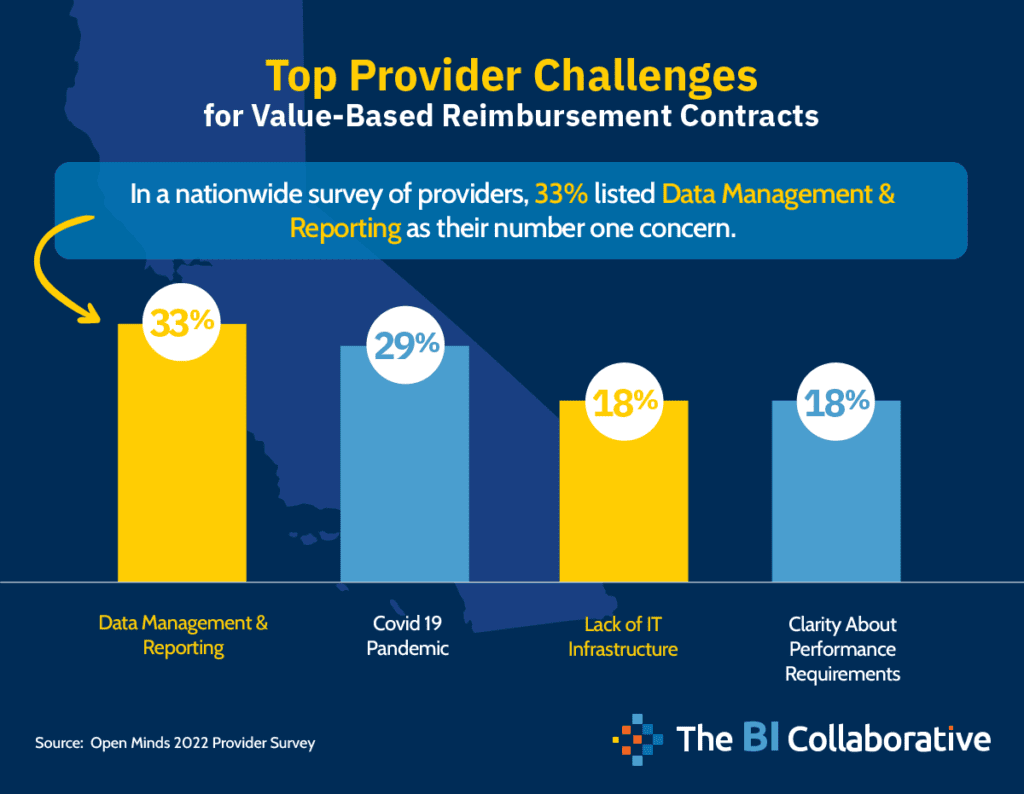 What can you do?
CalAIM has provided the clarity that you must be able to tell your story with data and clearly demonstrate your care impact and competitive advantage in order to survive. The BI Collaborative only works with Human Services Providers. We solve two of the top four Provider challenges listed in the survey results above (highlighted in gold). The BI Collaborative built a 13-module Business Intelligence (BI) platform that delivers management insights needed to not just survive – but thrive – in a VBR world. The platform was built specifically for Human Services Providers. This technology and approach has been used to help hospitals and health systems navigate value-based reimbursement initiatives for decades, and is a perfect fit for what is unfolding in Human Services today.
Save time and money leveraging this industry-specific platform that meets 80% of all Providers' needs and provides you the flexibility to customize the last 20% so it meets your specific needs. Sure, you could build a solution internally, but that is slower and isolates you to only your ideas and your data. Join a platform to leverage all Providers' experience and be in a community of comparative data for insights and continuing performance improvement.
Click here to read more about our business intelligence solutions for Human Services organizations. To schedule a personalized demo with a member of The BI Collaborative team, click here.
"This was THE BEST technology investment and implementation I have ever experienced." – G.N. Janes, Executive Director at Valley Community Services
About The BI Collaborative
The BI Collaborative is a business intelligence and data analytics solution company solely focused on the needs of Human Services Organizations. We solve our clients most complex data and information problems, from eliminating data silos within the organization to automating manual efforts of staff to maintain Excel spreadsheets. Our BI platform has 13 modules specific to Human Services such as Incident Management, Productivity, Utilization, Finance/Cost Accounting, and more. We help our clients "turn data into actionable information" in the form of Interactive Dashboards, Detailed Reports and Advanced Analytics. These outputs are customized to each client and serve the needs of the C-Suite, Middle Management and Frontline Staff. The BI Collaborative is more than a technology platform, we are a community of like-minded providers sharing best practices, comparative data and preparing (with data) how to best tell each of their stories to consumers & payers as the industry transitions to Value Based Healthcare and Alternative Payment Methods (APM's).
About OPEN MINDS
OPEN MINDS is a national market intelligence, management consulting, and marketing services firm specializing exclusively in the markets of the health and human service field that serve consumers with chronic conditions and complex support needs. OPEN MINDS' mission is to provide payers, service provider organizations, and technology and scientific firms that serve these consumers with the market and management knowledge needed to improve their organizational efficiency and effectiveness.
Sources:
Open Minds 2022 Providers Survey, February 2022