As a company serving Human Services Providers, I attend many conferences geared toward supporting these organizations in their critical role of helping people and communities to thrive. Lately, everyone is talking about "Being Prepared for Value-Based Contracting." It's what we are seeing and hearing from national thought leaders – and usually the most heavily attended presentation topics at these events.
Here are some recent session titles from ANCOR & Open Minds:
"KPI's for Value Based Care" – Joseph Naughten, Sr. Associate at Open Minds
"Performance Measurement & Management Under CalAIM" – Richard Louis, VP at Open Minds
"Motivate Staff & Smash Your Goals by Becoming Data Driven" – ANCOR Elevate Conference
"Understanding Unit Costs & Why They Matter So Much in Value Based Reimbursement" – Kenn Carr, Sr. Associate at Open Minds
"Bringing Quality Home with New Data & Metrics" – ANCOR Elevate Conference
"Metrics Based Management: Using Analytics for Strategy Implementation & Business Optimization" – Joseph Naughten, Sr. Associate at Open Minds
So, with all the talk being about WHAT providers need to think and do, the biggest question is HOW? In fact, one of the first Provider questions during Q&A after one of these presentations was, "What tools or solutions would you recommend for KPI tracking?" That is where there are many journeys a Provider organization can take.
Build -vs- Buy
If you needed transportation, would you build a car? Of course not! That isn't your expertise and there are cars (or transportation services) already available. There are companies out there that have dedicated themselves to engineering and building cars (or transportation services) which bring these advantages to you:
A high-quality product with more features and benefits than you could create on your own
More value at less cost
The BI Collaborative is the technology enabling solution for Human Service Providers to organize their data and create the management insights necessary to compete in a value-based market. Open Minds' 2022 Provider Survey revealed the top four concerns of Providers as they navigate the industry transition from Fee for Service to Value Based Contracts. The number one Provider concern was Data Management & Reporting, and the number three concern was Lack of IT Resources (see chart below).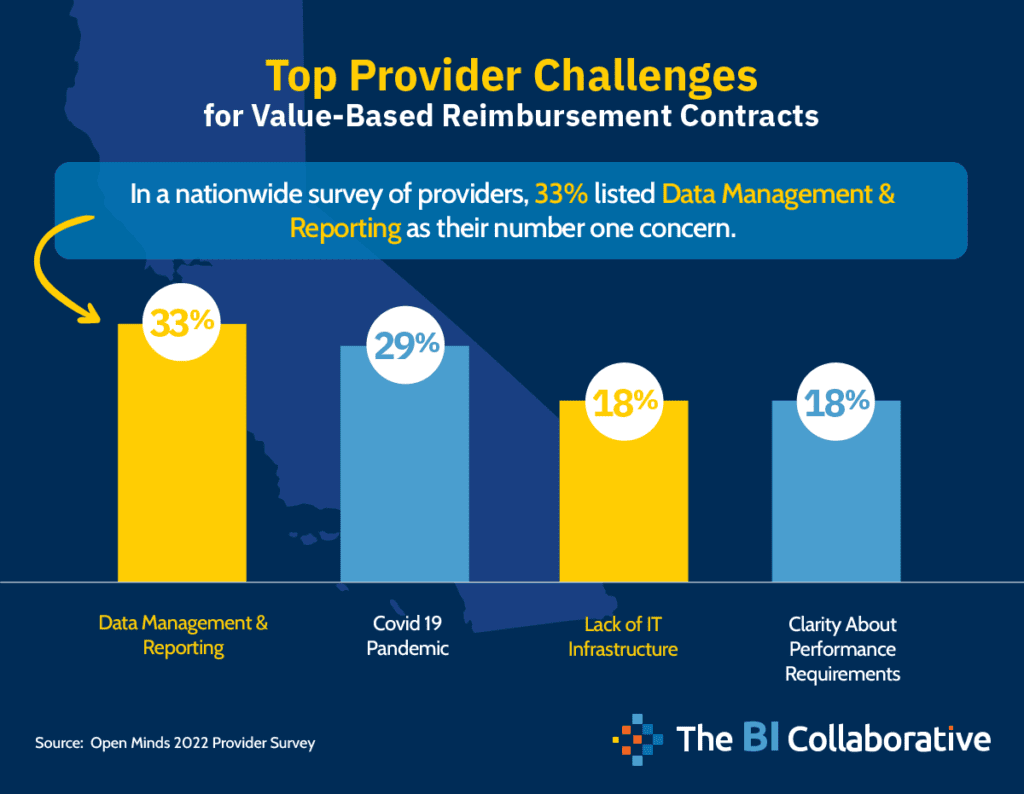 Monica Oss, CEO of Open Minds, stated:
"For most Providers, coping operationally with the wide range of metrics requested by payers depends on having the right framework for data collection and the right reporting platform. Key capabilities include the ability to integrate data from a variety of sources…and customizable analysis and reporting of performance data."
The BI Collaborative Business Intelligence Platform is the "right framework and reporting platform" and solves the issue of data from disparate systems being pulled into our decision support platform. We only work with Human Service Providers and solve two of the top four Provider challenges listed in Open Minds' survey (highlighted in gold above).
Our passion is to equip Human Services Organizations with a decision support tool delivering detailed insights, like knowing cost at a unit of service level or quality measures that differentiate them to Payers. The BI Collaborative Business Intelligence platform delivers management insights needed to not just survive – but thrive – in a VBR world. The solution is more than KPI's – it provides insights into the why. The BI Collaborative leadership team used this approach to help hospitals and health systems navigate the transition from fee-for-service to value-based reimbursement, so we understand what is unfolding in Human Services today.
Human services organizations are saving time and money by leveraging this industry-specific platform. From a "Build vs. Buy" standpoint, it delivers the best of both worlds; it is built specifically for human services organizations and provides the flexibility for customization to meet your specific needs. Sure, you could build a solution internally, but that is slower and isolates you to only your ideas and your data.
Here are more resources to help you with the all-important "How" question. Join a platform to leverage all Providers' experience and be in a community of comparative data for insights and continuing performance improvement.
Bob Hitson
Chief Growth Officer
The BI Collaborative
PH: 412-841-6170
Click here to read more about our business intelligence solutions for Human Services organizations. To schedule a personalized demo with a member of The BI Collaborative team, click here.
"This was THE BEST technology investment and implementation I have ever experienced." – G.N. Janes, Executive Director at Valley Community Services
About OPEN MINDS
OPEN MINDS (openminds.com)is a national market intelligence, management consulting, and marketing services firm specializing exclusively in the markets of the health and human service field that serve consumers with chronic conditions and complex support needs. OPEN MINDS' mission is to provide payers, service provider organizations, and technology and scientific firms that serve these consumers with the market and management knowledge needed to improve their organizational efficiency and effectiveness.
About ANCOR
For more than 50 years, the American Network of Community Options and Resources (ancor.org) has been a leading advocate for the critical role service providers play in enriching the lives of people with intellectual and developmental disabilities (I/DD). As a national nonprofit trade association, ANCOR represents nearly 2,000 organizations employing more than a half-million professionals who together serve more than a million individuals with I/DD. Our mission is to advance the ability of our members to support people with I/DD to fully participate in their communities.
Sources:
OPEN MINDS 2022 Providers Survey, February 2022
ELEVATE, 2022 ANCOR Annual Conference, April 2022